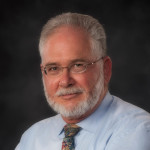 Having been immersed for some decades now in Israel-Diaspora relations, I often reflect upon a short story that Martin Buber included in his iconic "Tales of the Chassidic Masters;" one Jew asks his friend, Yankel, do you love me? And Yankel responds, Moishe, how can you ask such a question? Of course I love you. Moishe replies: But Yankel, how can you say that you love me if you don't know what pains me?
I thought of this brief, piercing exchange when we at Hiddush received the findings of our most recently commissioned poll (see below). Hiddush conducts many polls, but this one, in my view, has some of the most important implications for the Israel-Diaspora partnership in addressing Israel's challenges of religious freedom and equality. We share it with you in this RRFEI bulletin so you may not only consider it and reference it in discussions, sermons and public statements about Israel, but also share with us (RRFEI) your thoughts on these findings in the context of our mutual desire to see Israel advancing the goals of religious freedom and equality. I encourage you to use our RRFEI Facebook group [link] (or offline exchange), as an intimate, discreet forum to discuss this very delicate and often explosive topic.
You don't need to be a big maven to see that Israeli Jews prioritize Israel's religion-state conflicts very differently than the Reform and Conservative Movements have in their now three year almost exclusive advocacy focus on egalitarian Services (and Women of the Wall) at the Kotel. How do you feel about this radical gap? How do you view the irony that it's been mainstream Jewish organizations with strong Israel credentials such as the JFNA and AJC, which have acknowledged the strategic priority of personal status matters and the need to actively advocate for the advancement of freedom of choice in these areas, while the major religious streams have been mostly playing the role of back benchers, as they invested considerable time, energy and advocacy capital on the Wall?
The other questions covered in the poll are of clear corollary importance. We so often hear reservations from American colleagues and community leaders, who ask: what right do we, living in America, have to interfere with these internal Israeli issues? Do Israelis listen to us? Is this the right time to raise questions of religious freedom and equality? The nuanced, yet compelling survey data underscores the eagerness of the clear majority of Israeli Jews for American Jewry to enter the battlefield, and join Israeli groups and activists in the fight for marriage freedom. The level of support and its intensity differs between challenges of utmost importance and concern, such as the right to family on the one hand, and, on the other hand, issues of lesser importance or greater ambivalence on the part of Israelis. Our polling serves as resounding endorsement for those in the American Jewish community who have taken up the cause of marriage freedom in Israel, and should stimulate further reflection, as to the almost exclusive advocacy focus of recent years on the Kotel.
Let me make clear that I am not questioning the justice of the cause of freedom of worship at the Kotel for egalitarian groups and for WOW. I wholeheartedly support this. My question is that of individual and communal priorities in a reality in which nobody seems to be able to advocate effectively for multiple social causes (For obvious reasons I am not referring here to the controversies over security, settlements and the peace process). I am also concerned with the related question of the degree to which we should place great value on seeking a common front with Israelis who share our values of a democratic and religiously diversified Israeli society, as well as the degree to which identifying a cause, to which both our communities attach high levels of importance, should be a primary consideration in making our choices.
---
Hiddush Public Opinion Survey on Religion-State priorities
60% of the Jewish Israeli public supports the involvement of American Jewish organizations in advancing marriage freedom in Israel. There is no doubt that for Israelis – breaking the yoke of the fundamentalist Orthodox Rabbinate in marriage and divorce is a top priority among the religion/state battles. Israelis welcome American Jewish partnership in advancing this cause, both for the sake of Israel and for the sake of world Jewry!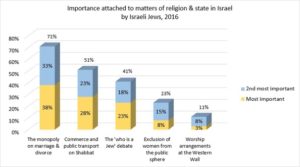 The survey results demonstrate the support of Israelis for American Jewish involvement in the struggle for religious freedom in Israel in general and for marriage freedom in particular. It is critical as a counterbalance to the political extortion of the Haredi parties, which is antithetical to the clear will of the people and to the core principles of democracy and civil society. As long as the Orthodox Rabbinic establishment controls marriage of all Jews in Israel, hundreds of thousands of Israeli citizens are denied the right of marriage in Israel, and the majority of children growing up in today's American Jewish community would be ineligible to get married in Israel, should they wish to make their home there.