The challenge of Jewish education and forging Jewish identity is dear and near to all of us. The challenge associated with these subjects in the modern era in an environment of an open society, which embraces Jews on the one hand – and in the State of Israel where only a minority defines itself as religious on the other hand – is self-evident. Both the Jewish community in the diaspora and in the State of Israel are seeking solutions and new avenues to address this exacerbating challenge. With that as the background, we felt the need to share with you the debate taking place in Israel – both in the formal educational arena, as well as in other arenas such as the Jewish identity educational programs taking place in the IDF.
The most recent symptomatic example of this debate, which reflects much of the drama and the emotions that play a role in it, can be seen in an interview given this week to Channel 10 (Israeli TV) by Naftali Bennett, Minister of Education and leader of the Jewish Home party. We highly recommend that you listen to the interview (Hebrew, starting at 10:30). Under Bennett's leadership and inspiration, millions of Israeli government shekels are invested in funding activities of Orthodox religious NGOs that provide classes and programs in Jewish identity in secular public schools. These programs are often skewed and aimed at brainwashing, and the funding mechanism used by the government is fraught with questions and possibly with legal issues.
This phenomenon stimulates strong reactions from all directions. On the one hand, Bennett and his people flatly deny any intention of religious brainwashing. They minimize the severity of their initiatives ("what happened, so they'll learn a bit of Judaism"). They accuse their critics of being driven by a will "to destroy Judaism" (this of course reminds us of ultra-Orthodox political leaders like MK Gafni who accuse the Supreme Court of being driven by a desire to destroy Judaism in the State of Israel via its rulings on matters of religious freedom & equality. Even more seriously – the efforts of Gafni, Bennett, and their allies to undermine the Supreme Court and limit and erode its authority). Bennett emphasizes the importance he attaches for every Jewish student to receive a rich and good Jewish education – "who Moshe Rabbeinu is, what Selichot are".
Even though he also serves as Minister of Diaspora affairs, it is clear that he has no real interest in highlighting or similarly funding exposure for students (secular or religious) to outlooks and practices common in the Jewish pluralistic world. There is talk today in the Ministry of Education about a new, more pluralistic curriculum, which was initiated by Bennett's predecessor, Rabbi Shai Piron, but it remains to be seen to what extent it will be funded, compared to the large amounts provided to Orthodox religious NGOs, as well as to the scope of Jewish pluralism that it will present. It is also important to mention in this context that Bennett and his people are not only concerned about the souls of Israeli Jewish children. They are also convinced that Diaspora Judaism is incapable of providing for the Jewish education of their children, and they know better what Diaspora Judaism is in need of. It is therefore that Bennett facilitated allocating tens of millions of dollars annually to strengthen the Jewish identity and solidarity with Israel of Diaspora Jewry's next generation. What he considers the necessary and "true" Judaism can be seen from the fact that two-thirds of the funding will go to Chabad and Aish HaTorah-related organizations (and one-third for Hillel). On the other side, there is a growing push-back by activists and organizations such as the "Secular Forum" that is mentioned in the interview with Bennett. They are speaking up and demanding that secular Jewish education be guarded against processes of "religionization" in the curriculum, allowing outside elements with a religious agenda to enter into secular schools, and in the text books (see for instance: Haaretz)
Hiddush has recently surveyed the attitude of the adult Jewish population in Israel regarding the question of "religionization". The survey demonstrates in a compelling way that the public does not "buy" Bennett's strong denial (anyone who views the TV interview will sense the hysteria that characterizes Bennett's reaction), and especially parents of children in secular public education affirm their view that such a process of "religionization" is in place and they oppose it.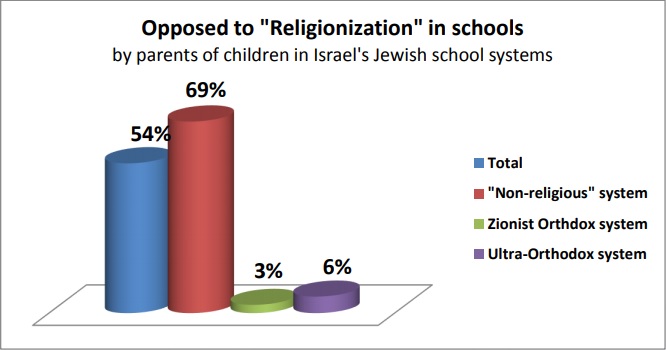 At the same time, the most important finding is the wide majority support that these parents express, as well as parents of children in religious public education for pluralistic Jewish education, which will not stop at "who was Moshe Rabbebeinu, and what is Selichot," as Bennett mentioned, but will enable the students to familiarize themselves the diversity of interpretations and approaches to Judaism from Haredi to secular, and will nurture in the students independent and critical thinking and an ability to choose their own Jewish paths.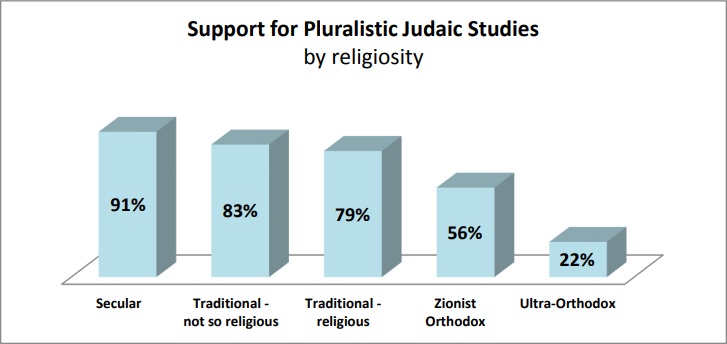 Hiddush is looking into this matter and investigating claims regarding "religionization". Hiddush has recently received a partial and evasive response from the Ministry of Education, and we will keep you informed as more information unfolds.