Exploring Israel's Jewish and Arab sectors, as well as the Zionist Orthodox community
This week, new perspectives regarding Israelis' views on marriage freedom and related issues were presented to the public.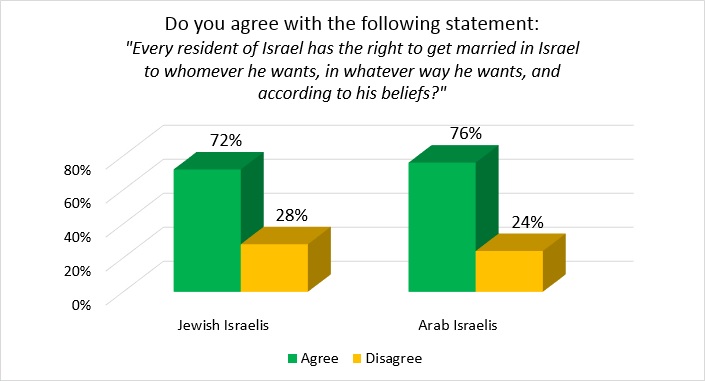 After years of polling Jewish public opinion, Hiddush initiated a special study of both Israel's Jewish sector and its Arab sector, and its findings were released on Valentine's Day. On the same day, another study initiated by the Modern Orthodox NGO Ne'emanei Torah v'Avodah, which focused on the views of Israel's Zionist Orthodox sector, was published. Since these issues are clearly high on the priority list of Israelis when it comes to matters of religion & state, and they directly impact world Jewry, we are making these reports available in the resource section of the RRFEI website. We'll be glad to provide further insights and background to those who request more details.
Click HERE for Hiddush's report on the 2017 Valentine's Day marriage surveys of the Jewish and Arab sectors of Israel (Hebrew)
Click HERE for Ne'emanei Torah v'Avodah's report on the views of Israel's Zionist Orthodox community (Hebrew)
Hiddush's dual study offers an eye opening perspective as to the differences between Jewish Israelis and Arab Israelis on these issues. The findings can be better understood given the great disparity between the percentage of Israeli Jews who define themselves as secular (~50%) and the percentage of Israeli Arabs who identify as secular (12%).
Also, of great interest is the fact that whereas in the Jewish sector, the principled embrace of the right to "marriage freedom" is carried into support for enacting civil marriage and divorce, while in the Arab sector, 76% embrace the principle, but only 43% support instituting a civil option for marriage and divorce. This may be attributed to the far lower awareness among Arab Israelis of the inadequacy of religious control over marriage. It may also indicate that if they were made fully aware of the extent to which the right to marry in Israel is infringed upon, they would lend their support to the necessary remedy. It's encouraging that among younger Arab Israelis, one finds a great level of support for a civil choice (60%), even though the majority of them would prefer religious marriage for themselves. Further, the high levels of opposition within the Jewish and Arab sectors to polygamy; and the high percentage of support for a bride's right to choose her partner are of great interest.
On a related issue, public attention was drawn in the last few days to the shocking case of a battered read more