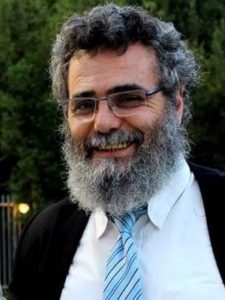 8 Av 5778 / July 20, 2018
Consul General Yehuda Yaakov, Boston, MA  02116
Dear Consul General Yaakov,
With dismay and sadness, we learned of the detainment on Thursday morning of our colleague Rabbi Dubi Haiyun of Haifa. Rabbi Haiyun was detained at his home at 5:30 am on July 19 by Israeli police at the bidding of the Chief Rabbinate and the Rabbinical Courts for allegedly performing "illegal" Jewish weddings.
Rabbi Haiyun's interrogation is an embarrassment for Israeli democracy. It is the latest demonstration of a disturbing antidemocratic trend in Israeli life, where an extremist Haredi minority wields unrestrained control over religious life to the overwhelming objections of Israelis and the Jewish Diaspora. If unchecked, the Haredi religious hegemony will continue to drive Israel and her American supporters further apart.
Like Rabbi Haiyun, hundreds of Israeli rabbis perform weddings in Israel outside of the bounds of the Chief Rabbinate. According to a 2017 survey, 67% of the Israeli public supports Israel recognizing all forms of marriages, including Reform, Conservative, modern Orthodox, and civil weddings. The monopoly of the Chief Rabbinate—which includes maintaining "blacklists" of Israeli citizens as well as rabbis in America and in Israel—is undemocratic, anti-Zionist, and an international embarrassment. It drives Israeli Jews away from Judaism, and American Jews away from Israel.
The State of Israel was founded on the principle of "…complete equality of social and political rights to all its inhabitants irrespective of religion, race, or sex; it will guarantee freedom of religion, conscience, language, education, and culture…" The hegemony of the Haredi Chief Rabbinate in marriage has become a democratic crisis for the State and its ardent supporters here in the Diaspora.
With sorrow we note that today Jews have freedom of religion, including the freedom to marry, virtually everywhere in the world—except in the State of Israel. We fear that Rabbi Haiyun's detainment is the latest in a series of antidemocratic actions that the current government has undertaken in order to appease the most vitriolic and most Haredi elements of the current coalition.
In anticipation of Tisha B'Av, we note that the Talmud tells tales of the sicarii, fanatics who held Jerusalem's population hostage as the city burned in the final days of the Second Temple. We are determined not to let religious extremism impede our vision of a free and democratic Israel, and the joyful expression of Judaism in its many contemporary flowerings.
We would appreciate if you would convey these sentiments to Jerusalem on behalf of our pro-Israel constituency. And we would welcome any public statement from you rejecting Haredi hegemony, encouraging weddings outside of the Chief Rabbinate, and promoting a pluralistic vision of Israel where all Jews and varieties of Jewish expression are welcome.
Sincerely,
Rabbi Toba Spitzer
Rabbi Neal Gold
Rabbi Sara Paasche-Orlow
Rabbi Nava Levine
Rabbi Ron Fish
Rabbi Alison Adler
Rabbi Matt Sofer
Rabbi Victor Reinstein
Rabbi David Lerner
–MBR Executive Committee,
On behalf of the Massachusetts Board of Rabbis
cc:  Deputy Consul Matan Tamir, CJP President Rabbi Marc Baker